Dear readers
It's Monday again! and we have been tagged in a book tag by Cinderzena and as you may or may not know both Tj and I love to read…
It's really no secret… anyway…
We thought it would be pretty fun (note a warped sense of fun) so why not? Here we go!
Normal – Tj       Italics – Soup
1.
---
Find a book for each of your initials… 
This was actually harder than you think it would be which resulted in me realizing how many of my book start with 'The'… (Note 'The' and 'A' have been excluded from the lettering)
S… Silence – Becca Fitzpatrick    A… Ashley Bell – Dean Koontz   B – Book Thief – Markus Zusak
Silence – The 3rd book in a series, this book is  a paranormal fantasy about fallen angels with a mysterious guy with a pretty weird name and an even weirder personality… Although the first book was pretty hard to get through, they get better as you go on… 
Ashley Bell – This is also a paranormal book with a cool plot twist and a storyline that will keep you interested for long… It's also a stand-alone which I always appreciate
The Book Thief – A historical fiction book (my favourite genre) set in WWII about a girl raised in Germany… really cool perspective and not to mention a very sassy and intriguing narrator…
T…The Fault In Our Stars   M… Matilda – Rold Dahl   F…Fire – Kristen Cashore
The Fault in Our Stars by John Green – I'm sorry I'm one of those people who's obsessed with John Green books… I love tfios and I may have gone through a phase where my wall was covered in tfios quotes and posters… Don't judge me
Matilda – This book was my childhood (and also the only book starting with 'm' I could find on my shelf…) But Roald Dahl is amazing I swear…
Fire – I bought this book when I was 11 (which in hindsight was waayy too young) and I still read it. It is a really good book and the characters are really engaging along with the amazing world Kristin has created. ( This book i part of a series that I recommend you read… the order of the series is Fire, Graceling, Bitterblue)
2.
---
Count your age along your bookshelf… Which book is it?
Considering the first books on my shelf is the entire 13 book collection of 'A Series of Unfortunate Events' There wasn't really much mystery on this one..
Clockwork Angel – Cassandra Clare
This is also a historical fiction with a bit of fantasy set in Cassandra Clare's 'Shadowhunter' world. I loved this series even more than The Mortal Instruments. The characters and setting of Victorian London (my favourite historical setting other than Scotland) make this book worth the read and if you haven't read any of Cassandra Clare's books I would suggest staring with this series…
Page – Tamora Pierce
I love Tamora Pierce's writing so I was pretty happy with this book. Page is the 2nd book in her protector of the small quartet. Although Page is my least favourite book of the series (Squire is my favourite), it is still really well written and engaing, Neal from the series is my spirit animal.
3.
---
Pick a book that represents the destination you would love to travel to…
I have so many to choose from! (Most of them fantasy places) but if I had to choose the one I would most love to visit at this point it would have to be…
Six of Crows – Leigh Bardugo
Ketterdam – Don't get me wrong, this isn't a place I would necessarily call pleasant but it is just so intriguing! Around every corner there is something unexpected (whether it's good or bad is to be seen) but Leigh Bardugo's writing just emerges you into a world you just do not want to leave… 
I'm Torrn between two sorry…
Harry Potter – J.K Rowling
Hogwarts – I just want to live there and go to school there. I love the dorms and hogsmeade and the divination classroom they have in the books, in half blood prince and the room of requirement and the teachers and the students and yes… I did go through a Harry Potter phase.
As well as the 19th century institute in Cockwork Angel. It sounds awesome and I want to live there… Also I want to travel to Idris . Idk I love 19th century England, I find it fascinating…
4.
---
Pick a books that's your favourite colour…
I absolutely love the colour blue and this book cover is just stunning (another place that I would love to visit)….
Rebel of The Sands – Alwyn Hamilton

This picture does not do it justice… This book cover is absolutely beautiful and the colour is one of my favourites! Not to mention it is such a good book! I finished it in one sitting… could not put it down…
Eleanor & Park – Rainbow Rowell
I've always loved the colours red/pink and blue and I find this cover really pretty…
5.
---
Which book do you have the fondest memories of?
This was actually a war between two books but that one that shone through was…
James and the Giant Peach – Rold Dahl
This was arguably the book that got me into reading. I remember getting set this book in year 2 and I absolutely could not put it down… This books makes me smile every time I see it… I have absolutely no words for this but at the same time I have a million things to say… It's safe to say that I really like this book.
Inkheart – Cornelia Funke
I got this book from my teacher at the end of year 3 and I read it 3 times in a row over the holidays after I got it, I specifically remember sitting at a picnic table at our camp-site next to the ocean reading the book. The book is tattered now from all the times I read it and there's sand and seawater on the pages and I still love it…
6.
---
Which book did you have the most difficulty reading?
Red Queen – Victoria Aveyard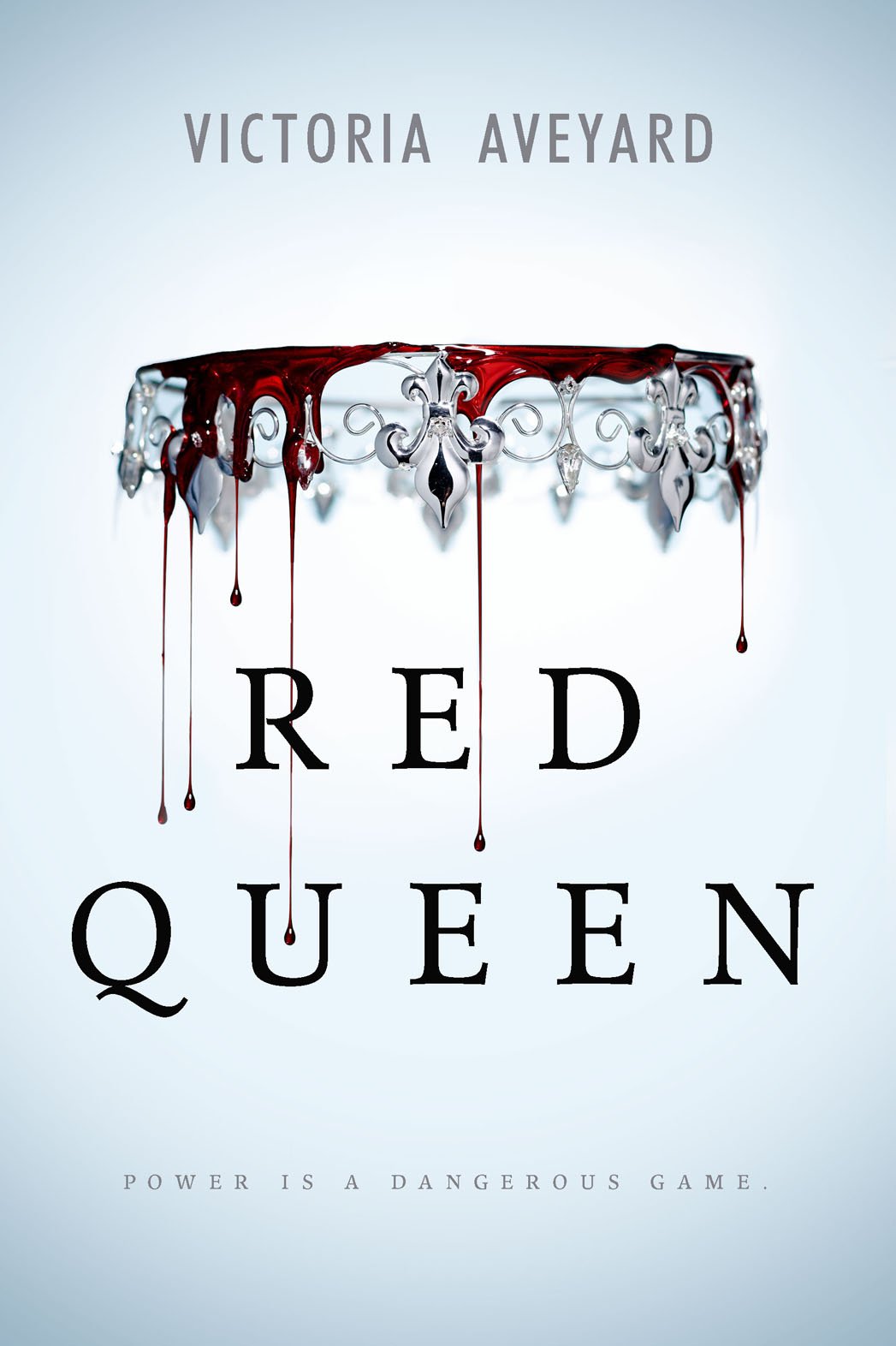 Although I did like this book, the ideas were very cliché and it was very predictable… I did get through it eventually and in all fairness the second book is stepping it up a bit…
Pride and Predudice – Jane Austin
I know, I know I'm sorry I just found this book really hard to read (I've never completely read it, I tend to skip parts I find uninteresting in books). I didn't like how detached the characters were from their emotions in the book, and yes I know that it is what it was like at the time but I really dislike how instead of saying something like Lizzie felt a horrible rage overcome her and marched up to Mr Darcy it says something along the lines of Lizzie dislikes what Mr Darcy said so politely curtsied and excused herself… (yes this may be a slight exaggeration). I don't like books when I can't imagine the characters facials expressions (I really liked the movie though)
7.
---
Which book in your TBR pile will give you the biggest sense of accomplishment  when you finish it?
There was no hesitation on this one…
Lady Midnight – Cassandra Clare
I was sooo excited when I got this book and I have started to read it and what I have read so far is just amazing but being in high school with assessments and an array of books that I will undoubtedly try and tackle at the same time it can get very difficult.. But I promise I will read it and then If you guys want Tj and I will do a review… 🙂
The Rest of Us Just Live Here – Patrick Ness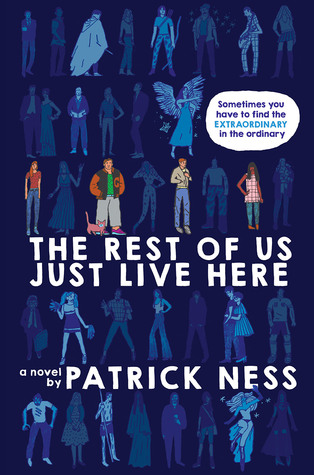 I've wanted to read this book for ages and I finally get a copy and I'm trying to restrain myself from reading until after exams… I'm really excited to read it though.
The End
---
So what'd you guys think? Do you like posts like this one? I know I love reading them…
P.S we would like to tag our good friend Athena to do this… Enjoy!
Until next time…
Keep the nerdling army strong!
-Tj & Soup
we do not own any of the pictures used and all rights go to the respected owners…